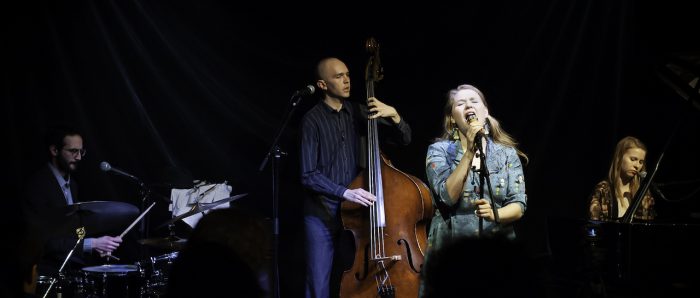 KAMA Kollektiv is the young Finnish singer and trumpet player Kirsi-Marja "Kiki" Harju's quartet. The band is based in Amsterdam, but Kiki's songs are full of memories of the beautiful landscapes, dark forests and the icy frost of her homeland, Finland.
Kiki tells stories – some in Finnish, some in English – about love and transformation, forests and animals, small everyday pleasures, and a mystical, romantic view of nature. The music is an amalgamation of jazz, Scandinavian folk and indie pop. It transports you on a journey to fabulous lands and intense emotions.
KOTI, the title of KAMA Kollektiv's new album, is the Finnish word for "home." The four musicians in the band originate from Finland, Israel and Germany, but they have all made Amsterdam their new home. Life experience has taught Kiki that home is more than a physical location. It's is a feeling, a conception and most importantly, trust. The music is rich with loving memories of Kiki's youth in a small village on the southern coast of Finland. It addresses letting go and learning to deal with new and unexpected circumstances. Ultimately, the friendship between the band members also creates a feeling of being at home, away from home. We invite you to share that feeling through our concert and music.
Kirsi Harju – trumpet, vocals, composition
Jetse de Jong – piano
Jonathan Nagel – double bass, composition
Yoad Korach – drums